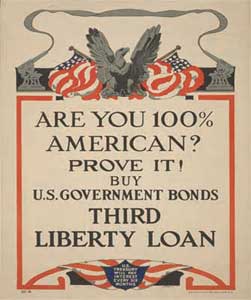 "Are You 100% American? Prove It!"

During the WWI, Sydney was commissioned by the governement to design recruitment and war bonds posters. One is pictured above, and appears in a book titled, "Wake Up, America! : World War I and the American Poster, " by Walton H. Rawls, published in New York by Abbeville Press in 1988.
In 1956 Sydney retired at the age of 65, to live in Seminole, FL, devoting himself entirely to painting, teaching and traveling. Over ten years, he made annual treks in the summer to paint in Mexico and study at San Miguel. Many of his later work reflect this influence.
At Pinellas art circles Mr. Stern's work drew praise, and 130 blue ribbons. Tom loved Sydney's work, and exhibiting him in a series of one man shows. In 1984 He took first place in the painting division of the 37th Holiday Art Competition at the Beaux Arts Gallery in Pinellas Park.
In 1984, in honor of his 95th birthday, a retrospective of his career was held at the Beaux Arts Gallery. Ninety-seven of his drawings, oil paintings and watercolors, some dating back to the 1920s, were displayed. His work also was exhibited at the Florida Gulf Coast Art Center in Belleair and at most of the leading galleries in Bradenton and Sarasota. This was one of his last exhibits. He died at the age of 99.
At his memorial service, Tom Reese, director of the Beaux Arts Gallery, promised a show of Mr. Stern's works would be held as a memorial Oct. 4, on his 100th birthday. ``His spirit will go on,`` Reese said of his long-time friend.