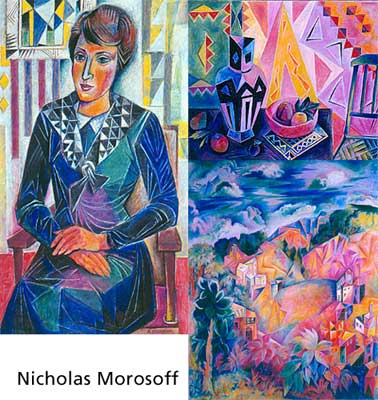 The colorful world of Nicholas Morosoff
Nicholas Morosoff was born 24 July, 1899 in Moscow to a well-known lithographer. He attended Moscow School of Graphic Arts, studying drawing and engraving. As a teenager he was dazzled by the work of Cezanne and Matisse, held by private collectors. He was At the Moscow Academy of Fine Art, he studied with Robert Falk and Kandinsky. While at the Academy, he met Vera Maslennikova. whom he later married. She was a talented painter, and her work was acquired by the Moscow museums. Nicholas Achieved master printer level and began teaching graphic arts, etching and engraving at The First Model Print School, Moscow.
In the early 1920's, Morosoff Designed two new Cyrillic type faces for the Bolsheviks. 1925 he left Moscow with Vera, never to return. He spent two years in Ravenna, Italy, and traveled around to study Byzantine mosaics. They were married on 26 October 1925.
In 1931 they moved to Paris and began a long list of shows and exhibits all over Paris.