Currently a resident of Pinellas Park, Boo Ehrsam was born in Indiana, spent a portion of her childhood in Louisiana moving to Florida in 1963. She is an internationally known artist whose works have been exhibited as far away as Beijing, China and Moscow, Russia. She has collectors in Europe as well as in the United States. Former President Clinton was presented with one of her works in 1995 during the occasion of his address to the joint legislature in Tallahassee, FL. Her work was part of an exhibit at the National Museum of Women in the Arts in Washington D.C. in 1996. Among the collectors are Tropicana, Staff Leasing Group, Adrien Arpel and daughter Lauren Arpel, B&R Botanicals and former State Representative Mary Brennan.
As a participant in the Tampa Bay Tour of Turtles, a public art project in the Tampa Bay area, Boo was commissioned to do 2 of the six foot fiberglass turtles. She also created a smaller turtle with a touristy touch for the turtle auction.
Boo is also an author whose books have sold in Canada, Europe and the United States. Currently she is arts editor for Bayside News. Since 1991 she has appeared monthly on the cable show In the Park introducing artists to Pinellas County viewers on Time Warner Channel 47.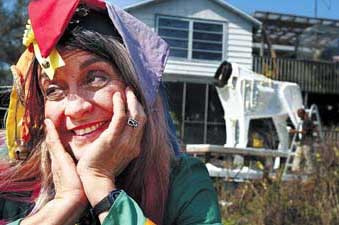 Times photos: Chris Zuppa

Real Florida
No rein on this parade Boo is one of the Founding Mothers of the Terra Ceia - Rubonia Mardi Gras, now in its 22st year, raising money for the Rubonia Community Center's programs for disadvantaged and at risk children ages 4 through 17.
In 1996 the National Museum of Women in the Arts in Washington D.C. opened an archival file on Boo Ehrsam and her works.
boosarts@att.net or (727) 546-0458
Chairs for Charity and Make-a Wish